Gary Currie died and Alexander Nisbet was seriously injured when the un-serviced Access Platform MEWP they were working at Port Dundas Road in Glasgow City collapsed from 28m/92ft.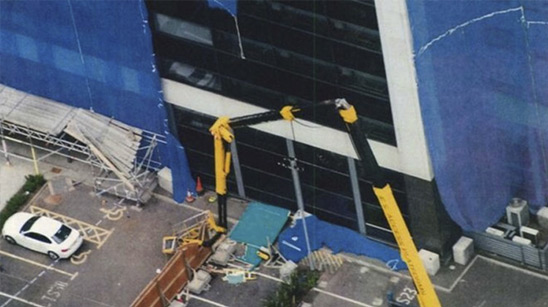 Gary Aitken, head of Crown Office health and safety division said "this incident could have been avoided if Craig Access Services had taken measures to maintain the platform in safe condition. For a complex piece of equipment such as a MEWP, that system should have included daily pre-use checks, intermediate inspections and maintenance based on manufacturers recommendations and six monthly through examinations carried out by a competent person, independent of the MEWP owner"

At Airdrie Court, Scotland, 57 year old Donald Craig was sentenced to the maximum penalty of two years imprisonment

Read more » Search Two year prison term for access manager


Return to Health & Safety page »

Rick Jaeger-Fozard RIP

29 year old Kimberley Access Foreman Rick Jaeger-Fozard lost his life working a MEWP at their Iver Depot in West London on 5th June 2013. It is believed the incident was related to the Genie Z-135/70 machine not being calibrated. On May 2nd 2014 the company announced that it had devised a secondary safety system and that had this system been fitted to the machine then his death would not have happened. Search: Kimberley to return Z135s to service I News I Vertikal.net
ACCIDENT (accidental) versus FATALITY (death):

A separate topic is the random use and interchange and association of the words Accident alongside Fatality.
The following is the contribution of the Oxford Dictionary:

An Accident is an event that is without apparent cause, unexpected; an unfortunate event.
A Fatality is a predestined liability to disaster – to be expected.

Kosran offer a complete system and the technology to prevent the majority of the 'Fatalities & Serious Injuries' which have occurred in the past. In the future the Kosran SAC System will save those lives. Fatalities will continue to occur in 2014 and beyond until Kosran preventative technology is adopted by the industry. It is available today as a technology transfer package. Accordingly, these future events are 100% 'Fatalities' and 'Not Accidents' as the cause is apparent and the 'preventative technology cure' is available.

Return to Health & Safety page »
When does a Safety System need to incorporate proven security?

Crane, powered access equipment and construction plant is a lethal and dangerous weapon in the hands of an untrained operator. Any Safety System installed on these machine needs to provide a level of security which will deter the rogue un-authorised user. By definition an un-authorised user will know he is un-authorised and will be equipped and ready to bypass whatever safety device is provided on the machine to stop him using it.

Today, in the global construction sector, with very few exceptions, on any site, at any time, anyone can jump on any machine and operate it.

A smart-card or keypad does not of itself provide any security against un-authorised use, theft or misuse by untrained operators. To be 'Fit for Purpose' the smart card or keypad (human interface) must be part of an integrated hi-tech secure anti-theft immobilisation system. This a topic for consideration by the UKCG Contractors Group because they have the responsibility to manage the sites, machines and operators. The UKCG has the in-house expertise and competence to evaluate systems for their effectiveness against by-pass, this is the key issue.

Today all safety & security systems are manufactured and supplied with the appropriate EU approvals, so 'fit for purpose against bypass' is the only outstanding issue to be addressed and for which a minimum standard needs to be put in place by the UKCG.

Mick Ledden of NWP "The unauthorised use of powered access is a key issue which demands a robust solution"


Kosran Contribution to Safe Working at Height:

The International Awards for Powered Access (IAPA) shortlisted the first generation Kosran for its "Contribution to Safe Working at Height" and published these comments:

"The Kosran Safety Access Control (SAC) system controls machines and operators. It is designed to deliver best practice health and safety on job sites by controlling access to aerial lifts and securely shutting them down when not in use. The Kosran SAC prevents the unauthorised use of MEWPs and is designed to prevent fatalities, serious personal injuries, reputations, brands, machine damage and downtime. It also provides a menu of benefits which reduces the daily operational cost of running a fleet, so the technology pays for itself. It can be retrofitted to all MEWPs. Read the full article »


FM Conway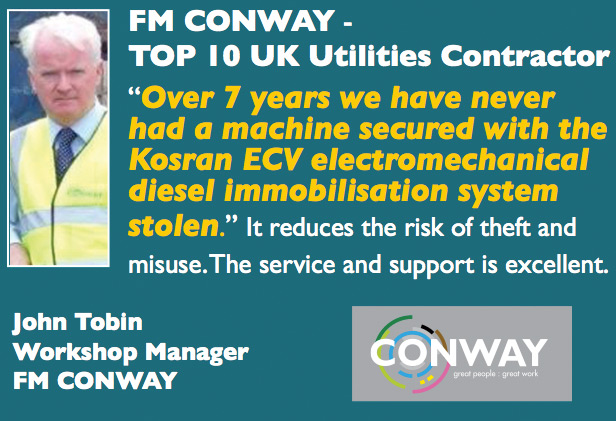 MEWP & Plant Safety – a Watershed Opportunity from Kosran Technology:

The Powered Access Industry must now adopt New Safety Initiatives for 'SAFE WORKING AT HEIGHT' which will 'prevent' the loss of life and limb.
In a civilised society, this is a fundamentally more serious issue than plant theft. Lip service and Public Relations lobbying are not required.
Resources need to be focused on a strategy of investing in the 21st Century technology which is proven and available for the protection of life and limb and family life.


"269 deaths could have been preventable" (TEREX Global Training Manager says 24.5.2014 KHL)

"Fatalities caused by falls from elevation continue to be a leading cause of death for construction workers, accounting for 269 of the 775 construction fatalities recorded in 2012. THOSE DEATHS COULD HAVE PREVENTABLE" said Scott Owyen, Global Training Manager, Terex Aerial Work Platforms (AWP) read full KHL article of 29 May 2014 here »



MEWP Safety – a Watershed Opportunity:

The protection of life and limb presents the industry with a watershed opportunity.
'Preventative' proven 21st Century technology providing real 'Safety, Access & Control' of machine and operator and stopping all unauthorised use is available today. It can permanently resolve these issues.
It is available to the global industry via a technology transfer package from Kosran to adopt and embrace.
Please contact Patrick Sheeran if you are interested in this opportunity.