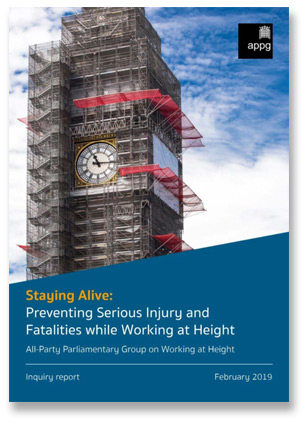 Staying Alive While Working At Height Report
Westminster All Party Parliamentary Group Findings:
The Inquiry confirmed that incidents remain unreported. The situation is worse than the published statistics. Therefore while those statistics are wholly unacceptable – the situation is worse.
Non-reporting of incidents is part of the Site Culture. It is often considered disloyal to the employer-company to report an incident.
After a serious incident falsification of pen and paper audits, by pre-dating pre-use inspections is a reality. Fictious reports are also originated.
Nicola Sturgeon of the SNP is clear "The welfare of construction workers on sites is the responsibility of the CONTRACTOR".
Return to Fatalities page »
Woman Dead & Crane Operator In Critical Condition After Crane Folds In London
A woman is dead and an experienced Crane Operator is in critical condition and three other construction workers injured 'AFTER A 20-METRE CRANE COMPLETELY FOLDED' on site and crashed through two terraced houses (killing a resident) and a block of flats under development in Bow, east London. The crane company said "the crane used was one of of its most tried and tested and reliable cranes"
Probable Cause/Opinion:
i) A faulty crane was put to work. ii) The experienced crane operator was lifting a weight in excess of that specified for the machine.
Day One Media Report
– 7/7/2020: The Company, Marney Construction reported: 'THEIR EMPLOYEES WERE NOT ON THE SITE AND HAD RUSHED TO IT FROM A NEIGHBOURING SITE'.
Day Two Media Report
– 8/7/2020: After a local resident released a video and made a statement 'That he had got into the area and
saw two construction workers (one critically injured) working the machine when it collapsed; and added
I saw guys working on the site almost crying at the situation. It was so out of the blue'. The company then retracted its Day One Report.
Opinion - What will the findings in the
Coroner's Report
be? Consistent with every other coroner's report it will say:
"This tragedy need not have happened if…"
Return to Fatalities page »
Irish Building Site Deaths Doubled in 2019
The Irish Times Friday, January 10, 2020 – Mark Hilliard
The number of fatalities on building sites more than doubled last year with falls from heights the leading cause.
'The message seems to have got through to big construction firms who have improved standards around worker safety' said HSA Chief Executive Sharon McGuinness
Publishing provisional data for 2019, Dr. McGuinness predicted incidents and deaths would continue to rise until there was a change of mind-set.
Construction has recorded its largest increase - 12 deaths compared to 5 in 2018.
A further 940 "non-fatal incidents injuries and dangerous occurrences" were reported to the Health & Safety Authority by the sector.
The rate of construction fatalities had increased "considerably" from 3.5 per 100,000 workers to about 8.2 per 100,000.
Return to Fatalities page »
Balfour Beatty Workers Fall from Scissor-Lift
Construction News January 15 2020 – Ian Weinfass
One worker has died and another injured at a Balfour Beatty site where two men are thought to have fallen from a scissor lift. A 62-year-old died after being taken to hospital following the incident at the University of Birmingham project on Terrace Road, Edgbaston, on Tuesday of last week. Balfour described the man, who was from West Bromwich, as "a colleague working for one of our supply chain partners".
Another man, aged 48, suffered serious injuries and was taken to hospital, but his injuries are not believed to be life threatening.
Police said they were called to a report of two men falling from a scissor lift at around 2.30pm.
A Balfour Beatty spokesperson said: "Our deepest sympathies are with the family, friends and co-workers of the deceased at this time. The health and safety of our workforce and the public is always our primary concern."
Return to Fatalities page »
23 year old killed when Dumper Overturns
Construction News January 10 2020 – Damon Schünmann
A construction worker has died after a dumper overturned at a site in Lincoln.
The operative was employed by Chesterfield-based firm Melfort Construction Services on a site where Lindum Group is delivering student flats.
In a statement, Lincolnshire Police said: "We were called to a building site off Rudgard Lane in Lincoln at 10.48am where a man was reported to have been injured.
"We can confirm that a 23-year-old Nottinghamshire man died at the scene. Next of kin have been informed."
In a separate statement, Lindum Group company secretary Herman Kok said: "We are extremely sad that an employee of one of our subcontractors has lost his life following an incident on one of our construction sites earlier today. Our thoughts go out to his family, friends and colleagues at this awful time."
Return to Fatalities page »
CRH – recorded 10 fatalities in 2017
Irish Times June 29 2018 – Peter Hamilton
'Eliminating fatalities continues to be the highest priority across the group, with zero fatalities achieved by 2020'. 'Mobile plant machinery accounted for 43% of fatalities at CRH Sites between 2008 and 2017'.
Return to Fatalities page »
Gary Currie RIP died when un-serviced Access Platform MEWP collapsed from 28m/92ft
Gary Currie died and Alexander Nisbet was seriously injured when the un-serviced Access Platform MEWP they were working at Port Dundas Road in Glasgow City collapsed from 28m/92ft.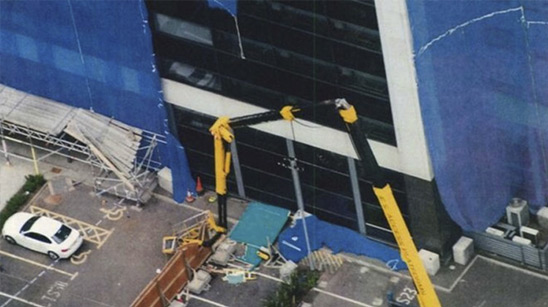 Gary Aitken, head of Crown Office health and safety division said "this incident could have been avoided if Craig Access Services had taken measures to maintain the platform in safe condition. For a complex piece of equipment such as a MEWP, that system should have included daily pre-use checks, intermediate inspections and maintenance based on manufacturers recommendations and six monthly through examinations carried out by a competent person, independent of the MEWP owner"
At Airdrie Court, Scotland, 57 year old Donald Craig was sentenced to the maximum penalty of two years imprisonment
Return to Fatalities page »
29 year old Rick Jaeger-Fozard is killed working a Genie Access Platform MEWP for Kimberley Access
Rick Jaeger-Fozard RIP 29 year old Kimberley Access Foreman Rick Jaeger-Fozard lost his life working a MEWP at their Iver Depot in West London on 5th June 2013. It is believed the incident was related to the Genie Z-135/70 machine not being calibrated. On May 2nd 2014 the company announced that it had devised a secondary safety system and that had this system been fitted to the machine then his death would not have happened. Search: Kimberley to return Z135s to service I News I Vertikal.net
ACCIDENT (accidental) versus FATALITY (death):

A separate topic is the random use and interchange and association of the words Accident alongside Fatality.
The following is the contribution of the Oxford Dictionary:

An Accident is an event that is without apparent cause, unexpected; an unfortunate event.
A Fatality is a predestined liability to disaster – to be expected.

Kosran offer a complete system and the technology to prevent the majority of the 'Fatalities & Serious Injuries' which have occurred in the past. In the future the Kosran SAC System will save those lives. Fatalities will continue to occur in 2014 and beyond until Kosran preventative technology is adopted by the industry. It is available today as a technology transfer package. Accordingly, these future events are 100% 'Fatalities' and 'Not Accidents' as the cause is apparent and the 'preventative technology cure' is available.

Return to Fatalities page »
David Scott Green killed by overturned dump truck
A construction company has been fined £225,000 after a worker was killed by an overturned dump truck.
David Scott Green, a groundworker for Essex-based Rose Builders, was manoeuvring a nine-tonne front tipping dumper truck on a spoil heap, a pile of mining waste material, when he lost control of the truck.
The truck toppled forward and landed upside down at the base of the heap.
A colleague noticed the overturned truck and ran to help, but Mr Green sustained a fatal head injury and died on the Summers Park Development site in Colchester, Essex.
Rose Builders were developing the 7.5 ha site as part of an £11m housing scheme, which included the construction of 150 homes.
The Health and Safety Executive concluded that the operation was not properly planned as drivers were not given instructions or training on how to safely operate vehicles and tip onto spoil heaps.
The HSE also determined that the job was poorly supervised.
Mr Green did not have his seat belt fastened and the HSE established that this was a common practice on the Colchester site.
Rose Builders pleaded guilty to two breaches of the Health and Safety at Work Act 1974. It was fined £225,000 and ordered to pay costs of £11,822.90.
HSE inspector Kasia Urbaniak said: "This was a tragic and wholly avoidable incident caused by the failure of the employer to assess the risk related to tipping operations, implement safe systems of work and failure to ensure that such systems were communicated to groundworkers and were followed."
Read the full story on constructionnews.co.uk »

Return to Fatalities page »
When does a Safety System need to incorporate proven security?

Crane, powered access equipment and construction plant is a lethal and dangerous weapon in the hands of an untrained operator. Any Safety System installed on these machine needs to provide a level of security which will deter the rogue un-authorised user. By definition an un-authorised user will know he is un-authorised and will be equipped and ready to bypass whatever safety device is provided on the machine to stop him using it.

Today, in the global construction sector, with very few exceptions, on any site, at any time, anyone can jump on any machine and operate it.

A smart-card or keypad does not of itself provide any security against un-authorised use, theft or misuse by untrained operators. To be 'Fit for Purpose' the smart card or keypad (human interface) must be part of an integrated hi-tech secure anti-theft immobilisation system. This a topic for consideration by the UKCG Contractors Group because they have the responsibility to manage the sites, machines and operators. The UKCG has the in-house expertise and competence to evaluate systems for their effectiveness against by-pass, this is the key issue.

Today all safety & security systems are manufactured and supplied with the appropriate EU approvals, so 'fit for purpose against bypass' is the only outstanding issue to be addressed and for which a minimum standard needs to be put in place by the UKCG.

Mick Ledden of NWP "The unauthorised use of powered access is a key issue which demands a robust solution"


Kosran Contribution to Safe Working at Height:

The International Awards for Powered Access (IAPA) shortlisted the first generation Kosran for its "Contribution to Safe Working at Height" and published these comments:

"The Kosran Safety Access Control (SAC) system controls machines and operators. It is designed to deliver best practice health and safety on job sites by controlling access to aerial lifts and securely shutting them down when not in use. The Kosran SAC prevents the unauthorised use of MEWPs and is designed to prevent fatalities, serious personal injuries, reputations, brands, machine damage and downtime. It also provides a menu of benefits which reduces the daily operational cost of running a fleet, so the technology pays for itself. It can be retrofitted to all MEWPs. Read the full article »


FM Conway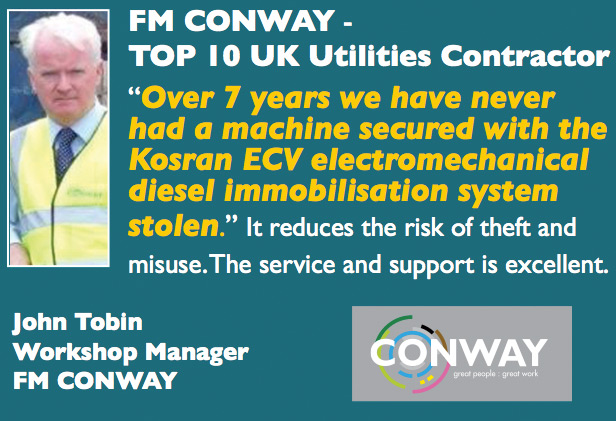 MEWP & Plant Safety – a Watershed Opportunity from Kosran Technology:

The Powered Access Industry must now adopt New Safety Initiatives for 'SAFE WORKING AT HEIGHT' which will 'prevent' the loss of life and limb.
In a civilised society, this is a fundamentally more serious issue than plant theft. Lip service and Public Relations lobbying are not required.
Resources need to be focused on a strategy of investing in the 21st Century technology which is proven and available for the protection of life and limb and family life.


"269 deaths could have been preventable" (TEREX Global Training Manager says 24.5.2014 KHL)

"Fatalities caused by falls from elevation continue to be a leading cause of death for construction workers, accounting for 269 of the 775 construction fatalities recorded in 2012. THOSE DEATHS COULD HAVE PREVENTABLE" said Scott Owyen, Global Training Manager, Terex Aerial Work Platforms (AWP) read full KHL article of 29 May 2014 here »



MEWP Safety – a Watershed Opportunity:

The protection of life and limb presents the industry with a watershed opportunity.
'Preventative' proven 21st Century technology providing real 'Safety, Access & Control' of machine and operator and stopping all unauthorised use is available today. It can permanently resolve these issues.
It is available to the global industry via a technology transfer package from Kosran to adopt and embrace.
Please contact Patrick Sheeran if you are interested in this opportunity.