Safety First?
Is it possible for a rental business to focus too much on safety?

By: Kevin Appleton Chairman of Travis Perkins plc & former CEO of Lavendon Group.
"There is a clear understanding in my company that we will never turn down a capital expenditure request that is directed at reducing genuine risk".
"There is a real cost to workplace injury, and an even higher cost attached to workplace fatalities. This cost can be in providing staff cover, in insurance premiums, in reputation, in site delays and stoppages and, finally, in the trust and engagement of your own staff".
Visit: International Rental News »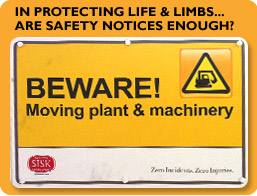 THE IRISH TIMES
Wednesday, November 9, 2016
Dublin District Court
Aer Lingus faces trial over Non-Employee Driver's Death
Aer Lingus is facing trial on health and safety charges in connection with the death of a driver at Dublin Airport.

John Murray from St Patrick's Close, Skerries, Co Dublin, fell from a loading bay in November 2014. The married father of two, who worked for transport and logistics firm DB Shenker Ireland, sufferred fatal head injuries.

Following an investigation by the Henlth and Safety Authority, the airline is charged with failing to ensure so far as reasonably practicable that individuals who were not employees were not exposed to risks to their safety, health or welfare at a cargo warehouse at Dublin Airport.

The charge goes on to state that it is alleged Aer Lingus did not have appropriate measures in place to protect persons from the risk of a fall from a height.

lt is alleged the company regularly permitted or required drivers to access and egress the building via the loading bay itself¯. The charge states this breached scction 12 of the Safety, Health and Welfare at Work Act 2005, and Mr Murray died as a consequence.

At Dublin District Court, Judge John O'Neill granted the DPP's application for the airline to be returned for trial to the Dublin Circuit Criminal Court, where it will face its next hearing on December 2nd.

Author: Tom Tuite

. . . . . . . . . . . . . . . . . . . . . . . .

Health & Safety Building firm fined €35,000 and costs over site injury which paralysed man
A CAVAN-BASED construction firm currently working on London's 2012 Olympic Stadium has been fined €35,000 and costs after a building site injury which left an employee paralysed from the neck down.

P Elliott and Company Ltd recruited a crane driver's helper who let a crane lift heavy metal cages over workmen's heads.

Glynn McKenna, environmental health and safety manager with P Elliott and Company, pleaded guilty on its behalf at Dublin Circuit Criminal Court to conducting unsafe lifting operations at the Clarehall, Malahide Road, Dublin, building site on October 24th, 2006.

The family-run company, which was established in 1942 and has an address at Century Business Park, Dublin Road, Cavan, also pleaded guilty to failing to guard openings on a building site roof.

It has no previous convictions.

Judge Frank O'Donnell imposed a fine of €30,000 on one count and €5,000 on the other.

The judge also ordered the company to pay the State's legal costs totalling €26,969.30.

Insp Pádraig Early of the Health and Safety Authority revealed that one particular cage, which the helper had attached to the crane with two ties instead of four, disintegrated in mid-air and came to ground 'like arrow'¯ on top of Slovakian construction worker Marian Smutney (31).

Mr Early told Dara Hayes BL, prosecuting, that the injured man was left paralysed from the neck down after suffering a massive head injury and three fractures to his spine.


Source: The Irish Times