Access Equipment Safety
Is your access equipment being moved when it should not be?
By people who should not be operating it ?
Is your access equipment doing week-end nixers?
These people are a danger to themselves and could lose their head. But they are your responsibility.
Are you meeting your responsibilities under the UK Corporate Manslaughter Act 2007
Access-Kosran can provide a complete solution including remote access control. When Kosran electro-mechanically shuts down a machine, it stays shut-down.
Manitou Telehandler saved by Kosran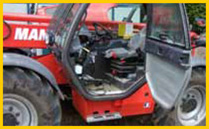 "Kosran is the best money I've ever spent to protect my machines. It has saved me thousands of pounds not replacing my telehandler, downtime and cross hire".
Ray Smith Director Manitou.
Excerpt from failed theft report: Manitou 1030S Value: £33,000.00 belonging to Belvedere Homes Windsor Road, Gerrards Cross UK. If this machine relied on the manufacturers factory fit electronic immobiliser it would have been stolen.