Hear what FM Conway have to say about the Kosran ECV system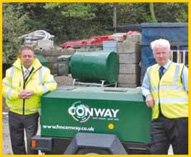 "FM Conway have been using the Kosran system now for 4 years, It has proven to be reliable and effective. In the 4 years we have never had a machine with Kosran fitted stolen. We have recently upgraded our Keypad system to Comms Keypad which enables FM Conway to remotely control our machine PIN codes, monitor usage and track and locate machinery."
Ian Gay - Plant & Transport Director, FM Conway.

"The Kosran system is specifically designed for our machines used in Public Works & on the Highway. It reduces the risk of theft & misuse. The service and support offered is excellent."
John Tobin - Workshop Manager, FM Conway
"While plant continues to use mechanical diesel engines, electronic immobilisers (as found on cars) are ineffective and electro-mechanical immobilisation systems should be used. Electro-mechanical systems primarily shut-off the diesel fuel supply and/or the hydraulics"
September 2007. P 27 UK Home Office Report.

Kosran is an engineering company and endorses the above Home Office specification. In the UK we are the industry standard and endorsed by the Top 5 Plant insurers on performance and merit. We have never had a machine bypassed and stolen. Our Kosran 'fit for purpose' Standard demands safe and secure systems which will resist bypass and attack for a minimum of 30 minutes.
Trackers real name: Asset Management.


Should kick-in after it's stolen, you have a <5% chance of it being recovered AND it
will cost you.

Electronic immobilisers on plant cut the electrical circuits.


Without exception they can be hot-wired in maximum 90 seconds (no matter who they are certified by). They make your plant more vulnerable to theft because the operator is less vigilant parking up because he thinks the machine is secured – which it isn't.

Trackers with Electronic Immobiliser


See 1 & 2 above – won't stop it being stolen and you won't get it back.

Kosran stops Plant Theft & Unauthorised use.


We stop fatalities and make safety a priority. We have integrated machine telematics/asset management with our electro-mechanical immobilisation system. No Kosran system has ever been bypassed.
Plant Theft Data
CESAR is 100% dependent on enduring police diligence. CESAR provides 2 x triangular numbered stickers, one with a microdottag stuck behind it; also 2 x transponders are fitted on the machine. The police have been supplied with a limited number of scanners to read and verify against the CESAR database, if the registered owner, is the one in possession. Datatag's CESAR also provides other chemical solutions but these cannot be read by the scanner provided to the police.
Kevin Howells of Datatag recently confirmed that the stickers are 'not impossible to remove' and that of the more than 160 Cesar registered machines stolen, 45 were reported recovered. He conceded that 'Tracking and other ID Register products' recovered some of these. TER - The Equipment Register - has confirmed they have recovered 2 CESAR registered machines from which the stickers had been removed; and tracking company Custodia Systems recovered at least a further 10 machines which had been registered with CESAR. Stats on recoveries by other Trackers are not available. See Kosran - KID ID Register... Why KID?... because its child's play.